Re: 2015 Elections – Candidates' posts
5 May 2015 at 2:55 PM
#7955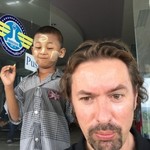 displayname420
Participant
Dear all,
I am very keen on joining the E.MA Alumni Board, as I believe it may be useful for advocacy, knowledge and information sharing and academic and professional guidance for new E.MA Alumni. I would particularly like to promote linkages of human rights advocacy with artistic expressions (cinema, music, theatre and dance).
I am a mixture of international human rights expat and local artist. I juggle field missions with INGOs and IGOs (OSCE, UN, NRC, others) and consultancies in post-conflict scenarios with an equally exciting life in my beloved Madrid, where I dedicate a lot of time to music, dance and theatre. I have been engaged with the E.MA since I graduated (2001/2002). Some of you may remember me in Kosovo organising the OSCE part of the trip. I act as E.MA Ambassador when in Madrid (Silvia Gomez Moradillo is currently doing this). Also, I will soon finish my PhD with Åbo Akademi, my ¨second semester¨ university.
You can find out more about my reading my blog on minority issues (mojitoetniko.blogspot.com.es) or my CV (josemariaarraiza.blogspot.com).
Best regards,
Chema