Reply To: E.MAlumni Board Member Campaigns 2017
10 October 2017 at 4:58 PM
#9921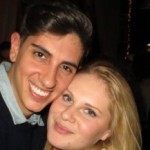 displayname1045
Participant
Hello People,
My name is Michele and as a masterone of the academic year 2013-2014 and active member of the E.MAlumni I am running to become Board Member. I have to admit that the idea of posting a video to introduce myself was extremely fascinating, but then I thought that appearing on camera is not something that I am pretty good at; not to mention the fact that probably my son would try to take the stage and make the video become a sort of singing-for-toddlers competion. So, I decided that on a practical lever is easier to write few lines to introduce myself and explain the reasons that motivate me to run for the Board.
First of all, I am an Italian national, who incredibly seems to have found his natural collocation in the Swiss academic market. Or at least this is what I like to tell about myself in order to keep on having the motivation to finish my P.hD in International Human Rights Law. I decided to engage in this activity with the idea that digging into an unexplored field – I write about entrepreneurial rights as human rights – will enable me to acquire the competences necessary to proceed further with academia or, as an alternative, to gain access into the magic world of international organizations. So far it didn't happen, but I gained a lot of resilience. You can trust me on this. And I also gained a family, composed of myself, another former masterona of my same academic year, and a sort of two and a half years old alien with human features, who taught me that sleep deprivation can be overcome after some months and that the last Nobile Price of Medicine is overrated.
Said this, I have to admit that the reasons I am running for the Board can be summarized in one easy thought: E.MA has been our family for one entire academic year and the relations we developed during this year are some of the strongest bonds I have ever had; thus I feel the need to provide actively for this family. I can compare this feeling with that of becoming a father, which means that after thirty years spent as a son, it was time to take on my shoulders the duties that a family carries. Here is pretty much the same. After four years as part of the big E.MA family and having beneficiated of the incredible job undertaken by the previous and the current members, I would like to give my active contribution in carring on the legacy of the E.MAlumni.
I don't believe in the need to propose a specific program to be implemented during the time as a Board Member, simply because a lot has been done in the previous years and still needs to be done. Thus, I would pretty much like to focus on three issues that I believe are of primary importance for the network of the current and the future masteroni:
The ambassadors: although theoretically well developed this topic  finds, in my opinion, some obstacles that can be easily overcome. First, there should be more interconnection among the different ambassadors located in the same country. I think that ambassadors, especially in those geographical areas that experience a low percentage of masteroni, should be motivated by the Board to interact more among each others. For me it was not really easy to integrate in Switzerland and am sure that organizing some meetups on a local basis would have been a nice way to avoid the feeling to emigrate after six months I was here. Just kidding obviously, but I do believe that the Board can foster the the creation of better communication channels among the ambassadors and between the ambassadors and the future masteroni;
The Mentoring Program: when I became an active member of the E.MAlumni some friends applied for the mentoring program as mentorees and their experience was pretty positive. So, I decided to apply to become a mentor myself, in order to try to give some advice to the new masteroni. Probably the organization of our Anniversary took most of the time available also for the development of other activities, but although I was contacted to be inserted in the program and expressed my appreciation for following 2 students, no further news on the mentoring program reached me after November 2016. In this sense, I'd like to re-start the mentoring program or to improve its communication, if it does not need to be restarted.
Last but not least is the issue of Pay Your Interns initiative (https://www.payyourintern.com/), a program that I got to know thanks to one of my fellow mates and good friend of mine: Vincent. He experienced for long time the bad habit of free internships that exist in human rights institutions and is an active member of the campaing, which reached already some very good achievements. It is not my intention to take credit for something I have not been involved in, but if elected for the Board, it is my intention to improve the dialogue between EMAlumni and Pay Your Interns and try to organize some initiatives together, such as one meeting with current students and a representative of Pay Your Interns during the Academic Year, sponsoring awarness raising campaigns, and trying to improve the dialogue between us, Pay Your Interns, and the institutions at stake.
I think that a lot have been said and wish to have your active support to continue the activities of the EMAlumni Board.
My best,
Michele