Re: Campaign for the board or president
15 June 2010 at 12:16 PM
#5589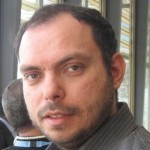 displayname195
Participant
Dear all,
My name is Giorgos Kosmopoulos and I would like to present my candidacy for the board or the presidency of the EMAlumni Association. I come from Greece (I wasn't involved with the state's finances, whatsoever, I swear) and I am a 2007/2008 masteroni currently living and working in Brussels. I believe in social activism, I am actively involved with the NGO sector (member of the board of a small NGO dealing with youth and human rights issues at a local level) and represent the Greek Section of Amnesty International at European level. Allow me to present you briefly my vision for the EMAlumni Association based on three axes:
1) Why do we need this Alumni Association?
It would be easy to brag about the uniqueness of the EMA program but I do believe (and think we all share this belief) that huge potential lies within the EMA graduates. Our diversity, dedication, experience and enthusiasm can create a really special alumni Association.
We need this Association because it could help the masteroni in many ways. It will raise the visibility of the program and its graduates, contribute to its improvement, help the masteroni towards their the professional life (career information and support, trainings etc), advance human rights causes and contribute to the human rights debate (through projects, conferences, seminars etc)
I think that lack of such an Association has been one of the main shortcomings of the program so far.
2) What kind of Alumni Association do we want?
The purpose of this association is laid down by our statute already:
–      promote and reinforce contacts between its members at a professional and informal level
–      support and help improve the activities of EIUC and E.MA
–      promote Human Rights and Democracy throughout the world
In order to serve these (noble) purposes I find it very important to clarify the identity of our association. I believe in an open, collectively managed, community oriented association. One of the main goals should be not to patronize the EMA community but rather to facilitate a lively EMA community, stimulate it as much as possible and make this Alumni Association useful to it. It must be evident to the members how this is association is useful to them and be proud to be part of it; they must consider it their Association.
3) How are we going to achieve all that?
First, human capital, here lies the added value of our organization. No need to mention the experience, the quality and the commitment of the masteroni, an efficient board must make constructive use of this capital.
Second, the presence of the networking officer is guaranteed by the EIUC (for next year) so it is imperative that we make the most out of his presence, take advantage of the new website (job postings, debates, information exchange or a couch to sleep in far off places), create a meaningful newsletter and use the internet and intranet to make the coordination of our activities possible.  The visibility of the program could be achieved by our presence in conferences and all related events (and here the disperse nature of our members could be actually an asset) while a small publication (like a brochure) would be very useful too.
Third, finances. A tricky one, as healthy financial basis (even a small one in the beginning) is essential in order to achieve our goals. It is very important that we have the means to cover our fixed expenses through fixed income resources and so far the only income foreseen is the contribution of the (active) members. EIUC might support financially the position of the networking officer (for a limited period) or a small event but in the long run we need to come up with additional funding. In order to organize additional events there must be additional resources so we might have to look for ad hoc contributions or cooperate with other institutions and NGOs. Unfortunately, many of our decision will be guided by financial considerations and here ideas and experience of the masteroni will be very helpful.
Finally, strategy and planning. My idea is that the first steps should be careful and well-planned.  I insist on the strengthening of the Association because if we try too many things too soon or raise the expectations too high the result will be disappointment among us and our members, this is the rust that slowly (or fast) decays every volunteer association or NGO. I also consider the smooth relations with EUIC (not because we need them but because we like them…) very important and here the role of the board and the president especially is critical. Planning means setting concrete, measurable and feasible targets. In this way not only we have a stick yard for our own work but we make it easier for all our members to evaluate our action, contribute to it and have a better understanding of where we are heading to.
This endeavor might take us far, let's begin with small but steady steps.