Re: Campaign for the board or president
13 June 2010 at 5:02 PM
#5579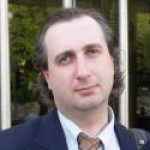 displayname86
Participant
Hi folks,
My name is Igor and I have decided to put forward my candidacy for the post of the Board Member. I am already 36 and I have graduated as long ago as in 2001 and I belong to that lucky group of early Masteroni who were still residing in the Monastery cells, chased bats and ghosts in the corridors during nights (or sometimes they chased us, especially on the eve of examinations). I don't know if I would be terribly useful for our Alumni Association, but I would love to, with my 15 years of work experience in human rights and development. I would not say that the E.MA has changed my life altogether as I already was working in the non-profit sector  for almost 5 years, but it definitely played a decisive role in my career and I maintain an emotional attachment to the City of Venezia and to the strange group of young and not so young people in Lido who continue to believe in all the right things despite the age of 'real politik' and values-neutral globalization  increasingly upon us. Oh yeah, and I probably should mention that I actually studied alright and I made it into the top 15 graduates of my academic year so I was awarded a paid internship at the OSCE Mission to Croatia for 6 months.
Beng half-Polish, half-Russian, I was raised in the Soviet Union and learned about human rights and democracy the hard way, through democracy activism. In the beginning of 1990-s I was among the founders of Amnesty International-Russia as well as I was working with street children in St.Petersburg. Since then, I have worked throughout Europe and Eurasia, South-East Asia and West Africa as well as spent time in the USA. I have recently completed my assignment with Human Rights Watch as a Representative/Researcher in Uzbekistan and now joined a peacebuilding foundation in Switzerland – PeaceNexus (where I cover human rights and humanitarian issues as well as I am in charge of developing a network of partners). If you would like to know more about my work with HRW, you can just google/free text search 'Vorontsov HRW Uzbekistan' and you also can se my short bio as part of the team of PeaceNexus Foundation: http://www.peacenexus.org/who-we-are/people/staff
I think that I could assist our Association with more substantive work on human rights promotion due to my unique interdisciplinary experiences across human rights, humanitarian relief, peacebuilding and social development. As for the development of our network, my experience would be perhaps also useful as it was my job in membership-based Amnesty International in Russia and then in ECPAT International in Bangkok, and now my post at PeaceNexus is also a Partner Relations Officer.
For our Association in the coming couple of years, I would propose to focus on idenitity development and on figuring out how exactly our network could be mostuseful for the Masteroni. I think that many Masteroni would like our Association to deliver tangible benefits such as career counseling and job support, interdisciplinary community of practice and a social network of like-minded human beings.
In addition to delivering valuable services to the Members, I think that we should also offer service and companionship to the current  Masterini and to have a virtual, or physical, presence in Lido. For example, we could hold regular seminars or informal conferences in San Nicolo where current E.MA students and Masteroni get together and discuss trends in development work, human rights careers and contemporary human rights and humanitarian issues.
While I am currently in full-time employment, I will make myself available to support the E.MA Alumni Association the best I can.
If you have any questions or comments, you are more than welcome to contact me via email:  igor.vorontsov@gmail.com
Best,
Igor Vorontsov, E.MA 2000-2001