Re: Candidacy for E.MAlumni Board membership
20 June 2012 at 3:35 PM
#5844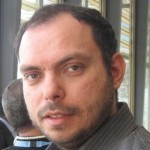 displayname195
Participant
Dear all,
I understand your dissapointment and appreciate your motives but as I mentioned already, the E.MAlumni board, after considering everything, took a decision, democratically, not to allow this candidacy.
The technical aspects of the voting are being sorted out after this brief delay and the voting will commence soon.
Hope you understand our position and, again, I am sure the ideas and the enthusiasm of Krisztina will be used properly by the next board.
Best
Giorgos