Re: Current Revolutions, let's discuss
4 February 2011 at 9:54 PM
#5701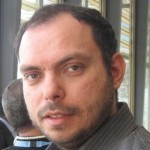 displayname195
Participant
Ciao Cristiano and all,
It is very intriguing indeed your idea. I think it would be very interesting if you could somehow make a small summary of your 'thesis' in your book (a bit wider than what you have proposed above) and possibly provide some additional argumnents. I feel there is a lot in there…
I think it would serve as an excellent starting point  and fuel and the discussion you are proposing.