Re: E.MAlumni Board Elections 2014
14 June 2014 at 11:17 AM
#6068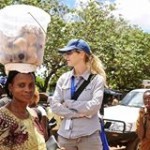 displayname610
Participant
Dear all,
My name is Lenka Homolkova, I am from the Czech Republic and I am a graduate of the E.MA A.Y. 2010/2011. I would like to introduce my candidacy as a Board Member as I strongly believe I can contribute with my up to date experience to the great work of E.MA Alumni Association.
About me: I have about 5 years of experience in the area of human rights and democratization. During past years I worked with different governmental, inter-governmental and non-governmental organisations on both, voluntary and paid basis. I have been extensively engaging in election observation activities in Africa and Europe (with EU and OSCE/ODIHR at short and long term positions), technical assistance in the area of democratization, governance and elections (e.g. at the EU Delegation to Sudan), awareness-raising and capacity building on human rights issues (e.g. training the Burmese pro-democracy activists at Thai-Burma border) as well as analysis, project management, communication and outreach. I currently work as a Consultant/Program Coordinator at the International Foundation for Electoral Systems (IFES) Regional Europe Office providing the electoral assistance to the electoral stakeholders (electoral management bodies, governments, civil society, investigative journalists, educational institutions and media) with the objective to increasing the democratic governance in the world.
Motivation to become a member of the Board: I have enjoyed studying the E.MA program to the fullest as well as I benefitted it a lot (paid internship at the EU Delegation to Sudan that resulted in a further consultancy opportunity, publication of the thesis that is extremely beneficial for my Ph.D. application and much more). And I have currently reached the moment I feel I have enough experience to give something back to the amazing community of E.MA graduates working to make the world better place to live for everyone. Furthermore, I like to keep the voluntary element in my professional activities and the Board elections provide me with a great option for my volunteer focus. Becoming a Board member would give me an opportunity to 1) share my experience; 2) employ my knowledge and enthusiasm to help further developing the organization and its activities, 3) use the networks I created to further increase the visibility of the organization and its cooperation with other like-minded human rights experts.
If elected I would like to focus on two main areas: 1) Fundraising and project development; 2) Further promotion of the E.MA graduates to the human rights job market. I believe that the E.MA Alumni Association has a great potential to develop its own projects and seek the funds from various donors. I would like to build upon a great work the E.MAlumni has already done and contribute with my experience in the area of project management as well as project development at both sides – the side of the donor and the side of the beneficiary – to help the E.MAlumni firstly, to identify more possible donors and secondly, to develop the projects that would be able to win the funds.
In line with the E.MAlumni objective to promote human rights and democratization in the world, the projects could focus on further education and capacity-building of the E.MA graduates and the peers (E.MAlumni could create its own training programs (online and in-person) to increase the capacities of human rights graduates and practitioners in very specific human rights topics).
Furthermore, I would like to work with the existing human rights experts database created under the E.MAlumni webpage. Creating a detailed outreach plan and disseminating the information about the database further to different stakeholders/employers could be benefited by both – E.MA graduates being potentially provided with more chances to receive a consultancy/job interview offers; and employers being provided with the ability to search high-quality human rights experts. Such plan, however, requires a thorough methodology also thinking about the security of personal data; therefore, if elected to the Board, I would like to work on a development of such a methodology.
Thank you very much for considering my candidacy and I hope to be in touch with all of you soon through the E.MAlumni Board!
You can find more information about me at E.MAlumni database or LinkedIn cz.linkedin.com/pub/lenka-homolkova/54/700/51a/. Should you have any questions, please do not hesitate to contact me at homolkova.lenka (at)gmail(dot)com .
Lenka