Human Rights Pavilion – Venice: Art with a cause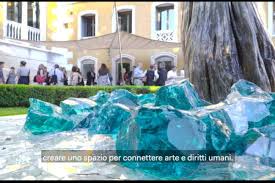 Human Rights Pavilion
Venice: Art with a cause
Deadline:
17 October 2018
First Human Rights Pavilion
Art can only flourish in an atmosphere of freedom from fear, violence and repression. The universal language of arts is the most powerful and joyful medium to promote the universal values of human rights.
While many of the existing national and thematic pavilions established as parts of the Biennale are at least partly exhibiting the works of artists who are themselves human rights activists or who aim at engaging with a human rights issue through their art, what is lacking so far is a coordinated effort to draw on the full potential that art has in this regard. In order to do so and to amplify the human rights messages that art can send, the proposed Human Rights Pavilion will present a unique and supranational platform for:
exhibiting carefully curated pieces of art that provoke a debate on current challenges to human rights;
engaging actively with human rights issues through the lens of the arts, in different media, with the aim of promoting synergies between the two;
fostering a new human rights culture that is coined by dialogue, tolerance and innovation;
connecting artists, members of civil society, NGOs, IOs, politicians and academia through the involvement of the vast network of the Global Campus of Human Rights and the creation of content around the art (seminars, workshops, conferences etc.).
The overall aim is to create a narrative around the featured artworks by underpinning the exhibition with academic expertise and educational activities. Acting as a convener space, bringing together the know-how, experience and network of both organizing institutions – EIUC and Fondazione Berengo – and linking the arts with human rights education and research, the Human Rights Pavilion will constitute an essential and unique addition at the same time of the Biennale Arte 2019.
Where? The headquarters of the two institutions are Palazzo Franchetti by the Grand Canal & a Murano furnace for Fondazione Berengo, and the Monastery of San Nicolò for EIUC/Global Campus of Human Rights.
WHAT WE NEED AND WHAT YOU GET
Your different donations entitle you to many benefits. By supporting us, you'll be helping not only artists and the dialogue on the current human rights crisis, but also receive different visibility and event packages. We promise to put your donation to work immediately!
OTHER WAYS YOU CAN HELP
Help us to promote the event by sharing this campaign using the hashtags:
#TogetherForArt #Art4HumanRights #HumanRightsPavilion
And you could always volunteer to help in 2019!
About US
The Global Campus of Human Rights is an EU-funded global network of universities based on cooperation between the European Inter-University Centre for Human Rights and Democratisation (EIUC) – the network's focal point and umbrella organisation – and seven Regional Programmes which are based in Venice for Europe, in Sarajevo/Bologna for South East Europe, in Yerevan for the Caucasus, in Pretoria for Africa, in Bangkok for Asia-Pacific, in Buenos Aires for Latin America and the Caribbean, and in Beirut for the Arab world.