New GCA & E.MAlumni Secretary General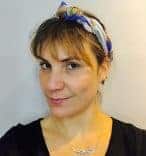 After Sara Pastor and Moana Genevey, who for the past year co-shared the Secretary General position and who are now starting new professional adventures, the E.MA alumna Carla Miranda is taking the position over as of 14 November 2017.
About Carla:
Carla has a legal background and is specialized in Human Rights and Humanitarian Aid. Before leaving Rio de Janeiro, Brazil she used to work as a refugee lawyer and human rights activist. Driven by human connections and hands-on work, Carla has been collaborating with several grassroots organizations all over the world. Her areas of expertise are refugee protection and migrants' rights. She is also involved in initiatives related to gender equality and environmental protection. Carla graduated from E.MA in 2015, but her first adventure in Venice was in 2013 when she joined the Summer School of Human Rights:
"I still remember Lydia taking the floor to talk about E.MA, the (back then) young E.MAlumni Association and the great network we were about to take part of! I was totally amazed by content of the programme, the structure and all the people I had met there – I went back to Brazil writing my application letter on the plane!
On the following year I joined the E.MA willing to go deeper in my studies in the field of human rights and to learn about European law and institutions. It was a remarkable year; the course has opened many doors for me. It also opened my mind to different perspectives -I got not only the formal knowledge I expected but also the inspiration to go beyond in my career, dream bigger and believe in civil society's transformational role. Following Venice my nomadic soul took me to the Netherlands and Germany with some other stops in between. During these past two years in Berlin, I joined the cluster of civil society in different projects addressing integration and inclusion of refugees and asylum seekers in the city, promotion of cultural exchange and diversity, and underprivileged children educational support.
Since 2013, in all the cities I've lived and worked in I could always count on a fellow masteroni, either to confabulate about new projects or just to hang out and show me the surroundings. These experiences revealed to me the great potential of this network and I couldn't be more excited to keep contributing to it now at GCA!"