Rocío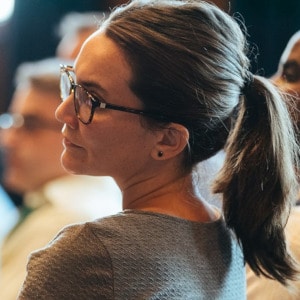 Rocío Comas
GC Latin America-Caribbean (LATMA cohort 2014/2015)
I am conducting a Ph.D. at the Friedrich-Alexander University in Erlangen, Germany and as a fellow scholar for the German Academic Exchange Service – DAAD. I have recently been assigned as a Children´s Rights Regional Officer at the Global Campus Latin American and the Caribbean Master Programme. I obtained a Bachelor of Laws at the University of Buenos Aires, Argentina and a master's in Human Rights and Democratization at the University of San Martin (Cohorte 2014-15). During my master studies, I was awarded to publish the thesis in "Gender and the best interests of the child in the administration of justice: Case Analysis in Argentina". I also gained experience as a human rights consultant at the Regional Office of United Nations High Commissioner for Human Rights in Chile working specifically on the promotion and protection of human rights through the Universal Periodic Review-UPR- mechanism. I have published articles in the field of migration, children´s rights, enforced disappearances, economic, social and cultural rights, the UN Agenda 2030 and the Right to Food.
What motivates you to work on children's rights?
Throughout my education becoming a lawyer I've had numerous experiences working in the field with groups in situation of vulnerability and, in various ways, they motivated me to pursue my specialization on children´s rights. My activity has been devoted to social science research and direct human rights advocacy. Going back a bit in time as a last-year-law-student, I did my practical studies in Penal Enforcement that worked on human rights with incarcerated people in federal prisons that allowed me to visit a Federal Prison (31st Unit of Ezeiza) where mothers with their children and migrant women cohabitated. Within that experience, while doing my practices at the Office of the Procurator, we supported house arrest applications with amicus curiae. That is to say, when a mother is deprived of her freedom, two types of scenarios could take place (while also aggravating the situation of vulnerability of children): the separation or partial rupture of the bond of the mother and her child, or the child having to stay in a prison unit with her. In particular, I came across the case of a child and his mother who were deprived of their liberty. The story goes back to 2012 when Ana María was in prison with her seven-month-old son and applied at that time for house arrest due to the fact that she was a mother with a child under five years of age. The Court rejected it because there was "another mother" who could look after him. The "other mother" was her female partner. Because of the discriminatory treatment from the Judicative Power in regard to her sexual orientation and gender identity, the decision was appealed. After Ana María and her son spent one year and eight months in prison, they finally were released in August 2014 and stayed free since then. This is one of many cases where an international instrument such as the Convention on the Rights of the Child, plays a key role in the decisions of the respective courts. In that respect, childhood needs special care and assistance, particularly in those parts of the world where children live in exceptionally difficult conditions. This experience was one of many helping me acquire a certain sensibility and interest in children´s rights and still nowadays motivates me in my day to day work.
What gives you hope regarding the current developments and the future of children's rights?
The Convention on the Rights of the Child (the year 2019 marked its 30th anniversary) is considered to be the most widely and rapidly adopted international instrument of all times, not only with almost universal acceptance but also with the biggest participation of civil society. Since 1990, achievements in the field of children´s rights can be seen for instance in a reduction of more than 50% in children´s death under 5 and with a view to reducing it to less than 25 per 1000 by 2030, and almost halved the proportion of undernourished children. Despite the mentioned progress, it can be said that around 262 million children and youth are not in schools, 650 million girls and women were married before the 18th years of age, 149 million children under 5 are stunting and almost 50 million are wasting (UNICEF, 2019). Nevertheless, clear accomplishments could also be seen as widespread law reforms in order to protect children while also reaching their full potential. International law understands that childhood needs special care and assistance and at the same time, considers children as right holders. That is to say that they should be able to seek redress if their rights are violated within their jurisdiction and regardless of the children or their parents, legal guardians or family members race, color, sex, language, religion, political or other opinions, national, ethnic or social origin, property, disability, birth or another status. Significant challenges remain in order to promote, protect and realize the human rights of children, especially those who are in the most vulnerable situations and with urgent needs.
Which skill/knowledge that you acquired during the master are you currently using in your work?
By providing an intercultural and interdisciplinary atmosphere, the master's in Human Rights and Democratization for Latin America and the Caribbean allowed me to acquire the necessary tools, both professionally and academically, to be able to deepen certain frameworks of international human rights law such as children's rights, human mobility, and gender. Currently, I'm conducting a Ph.D. investigation that aims to analyze the model of protection of the rights of the child in light of the phenomenon of disappearances of unaccompanied migrant children in Europe. The research focuses not only on the universal and regional systems for the international protection of Human Rights law but also on a social sciences perspective. The study also concentrates on the rights of unaccompanied migrant children in the jurisprudence of the Interamerican System in comparison with the European System of Human Rights with the objective of complementing the development of the model for the integral protection of children's rights to prevent the disappearance of unaccompanied migrant children and adolescents in Europe.