Rosa Izquierdo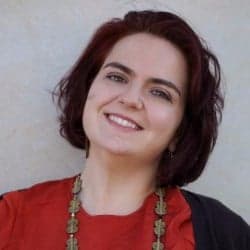 Occupation: Freelance Human Rights, Protection and Psychology Professional; GLOCARIS Glocal Minds Ltd consultancy firm owner
EMA Year: 1998-1999
Thesis: Psychosocial support to international field operators
On the EMA programme
Nothing of what I have done since would have been possible without the Master programme, it helped me to develop a multiplier mindset of great value when working with institutions and systems. It actually opened the doors for my first contracts, in Liberia on women raped in war and then back home as government advisor on development.
Most memorable EMA experience
The first lectures from high-level professionals, from these, that you read about, sign books, guidelines and reports that you devour, the ones that contribute to policies are in the public domain. Suddenly they are there, all the way to Venice, in front of you, sharing, human, life and alive.
On the EMAlumni Association
Now that I am developing my own firm, I see the association as a way to build alliances with former colleagues, further understand the needs of human rights experts, offer tailored services, develop broader programmes together, enjoy nice chats, alive discussion and feel there are people out there that also stay for this way of life that is actually my leitmotiv. Stay connected!